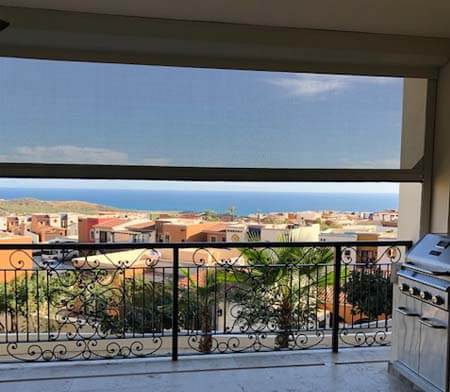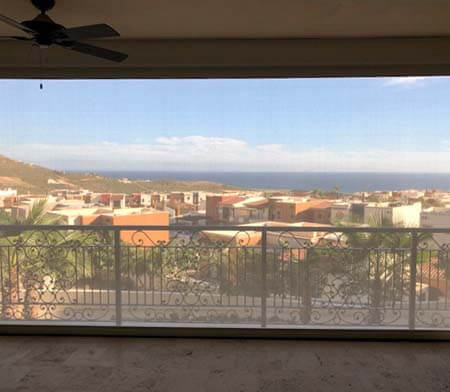 Atlas Armor Protecting Your World™ The ONLY roll down screen you will ever need! Our limited warranty includes: fabric (10 years) and motors (5 years) when installed on your home. Atlas Armor Hurricane Screens have been tested and approved by Miami-Dade and are currently the ONLY roll down fabric they have approved for hurricane protection in the High Velocity Hurricane Zone (HVHZ). NOA 19-0415.03
Designed to be used EVERY DAY of the year for insect, sun and weather protection. Too hot? Too windy? Too many insects? Too rainy? Need privacy? Want free access to outside? Just push a button for the comfort that you desire.
Push button Comfort
Designed for daily (24/7) use in full sun light and salt air
Resistant to sun, rain, wind, fading, and insects
Reduces sun glare and blocks up to 95% of sun's harmful rays
Allows you to always see your view while allowing in both filtered sun light and a breeze
Limited replacement warranty against fabric damage by sun (UV), mildew, mold, rot and air pollution for 10 years
Patented weight bar with self-leveling bottom blade and end retention guides with anti-bow technology
Fabric colors: black, black/tan, white/tan, and beige
Provides privacy from outside viewers
Atlas Armor Hurricane Screens are made of a combination of Polyester and Aramid (sometimes known by its DuPont trademarked name Kevlar). Aramid is used in making bullet proof vests and high strength racing car bodies. The two materials make a very stable screen product with superior strength and durability.
Atlas Armor Roll Shutter Screens can be used every day in full sun without fading, shrinking or cracking. They don't rot or mildew and are not affected by airborne pollutants. In fact, they are so tough we provide a 10 Year limited replacement warranty against all of the above problems. Give us a call today to find out the best wind screen product options that suit your needs.
Call 813-814-2236 for more information about our Atlas Armor Roll Shutter Screens.