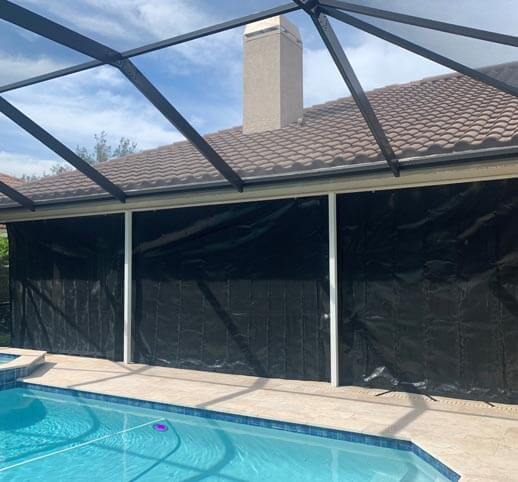 Attractive and Economical. No stitched edges, a 2" border thermally welded both sided to the fabric. EZ Max Screens will not change the home's appearance with rails or folded shutters. A fraction the cost of aluminum shutters, maintenance free with a 10 year replacement warranty on attachments and a lifetime replacement warranty on thermally welded edging.
Easier light weight installation
See through design – eliminates "boxed" in feeling.
Minimizes noises during a storm
Maintenance free and compact storage
Colors available
10 year limited warranty
Thick Screen Construction. Heavy 25 mil Polypropylene material with UV inhibitors built-in, which does not washout due to weather. 2" border on both sides, colors (black, white, brown). 5 screen colors (black, white, grey, beige, and brown). Fastener 0ptions (Grommet, bracket, buckle) Give us a call today to find out the best wind screen product options that suit your needs.