June 1 – November 30th marks the annual Atlantic Hurricane Season. Forecasters at the National Oceanic and Atmospheric Administration Climate Prediction Center (NOAA) are predicting above-average hurricane activity during the 2022 Hurricane Season. Experts say hurricane screens on your home's windows and doors will help keep hurricane force winds out, protecting your home and everyone inside. Here's how they work.
About Hurricane Screens: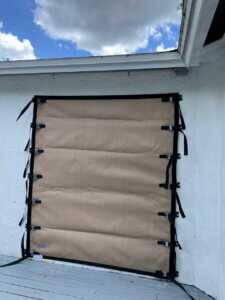 Weather experts at the National Hurricane Center, as well as the National Oceanic and Atmospheric Administration, are predicting above-average hurricane activity during this year's Atlantic Hurricane Season. The forecast has many Floridians reviewing their hurricane preparedness plans, which includes inspecting their existing hurricane screens or buying storm protection products for their home, if they don't already have them.
Hurricane screens for doors and windows are some  of the most popular consumer products on the market. What screens are made of and how they work are what make them so effective.
Let's start with what these screens are made of. Most are composed of a reinforced polyurethane mesh that's stronger than the typical window insect screen. These sturdy barriers are able to withstand winds up to 276 miles per hour. Unlike old-fashioned wood panels, today's hurricane screens are Florida Building Code Approved and tested to withstand the sustained winds of tropical storms and hurricanes.
How do Hurricane Screens Protect Your Home?
Screens are designed to secure the most vulnerable areas of your home during a hurricane, windows, doors and any other openings. By tightly securing these openings, screens prevent dangerous hurricane force winds from entering your home and putting the entire structure at risk. Once penetrated, that wind causes a sudden change in the air pressure that is strong enough to blow out  windows and doors, and your roof right off the trusses. A break also allows the wind to carry in flying debris that can cause serious property damage and can be life-threatening to anyone in its path.
Modern technology makes these screens more user friendly than ever before with lightweight materials, motorized screens, and even see-thru versions to allow natural light in during the usual power outages in a storm's aftermath.  While these conveniences are popular, storm forecasters say it's the protection hurricane screens provide Floridians that makes them so vital during hurricane season.  Experts agree that Hurricane proofing your home with screens can also offer year-round protection in the form of security and environmental benefits. We discuss this more in detail, later in this article.
Types of Screens
For now, let's focus on the different types of screens on the market.
Fabric hurricane screens are made with special material that's reinforced to provide tested protection, and its lightweight nature makes them easy to install and remove. Fabric Shield is one of the screen options popular with consumers who don't want the look of permanently installed, year round hurricane shutters. Each Fabric Shield is fitted to the size of your home's openings and comes with all the hardware necessary to install by hand. It's easily a one-person job and no additional tools are required, as you'll see in this video.   
Roll-down screens are made from a polyester-blend. That fabric contains a mix of some of the same material used to make bulletproof vests for law enforcement officers. These fabric roll-down screens come in different sizes and are cut to your specifications.
EZ Max Screens are manufactured from a heavy 25-mil polypropylene material that's strong but lightweight. Each screen comes with its own set of buckle-fasteners that can be installed by hand. No additional tools, like hammers or screwdrivers, are required. Consumers like the easy storage bags they come in, making it convenient to keep in the garage, backyard shed or a closet, until needed. In this video, you'll hear the installer say he stores his own EZ screens underneath the bed.  These screens aren't just hurricane tested, they are also easy to maintain. The EZ Max Screens won't fade in the sunlight or weaken by years of rain exposure. EZ Max Screens also come in five colors.
Who Needs Hurricane Screens?
If you live in Florida, experts say you need hurricane protection products regardless of where you live, and Florida Building Code approved hurricane screens remain one of the most effective consumer products.
Stay Protected in Florida Hurricanes
In Florida, hurricanes are a fact of life for six months of the year – June 1 – November 30. Any hurricane preparedness plan should include securing the windows and doors of your home or business. Hurricane screens are an ideal, cost-effective solution for consumers.
Home Safety Solutions is here to provide you with the highest quality hurricane screens on the market. Contact us today to find out more about our products or schedule a free assessment of your home or business.