If you're looking for a durable and attractive shutter that requires only minimal effort to deploy, Bahama Hurricane Shutters are the way to go. These shutters are easy to use and position ahead of a storm, and will give you hurricane protection while blending with the style of your home. In this article, we look at the benefits of this particular style of hurricane shutters, price and durability.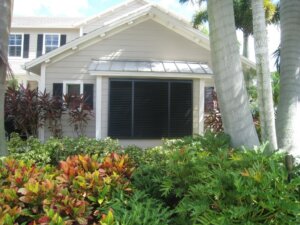 Hurricane shutters can be categorized into two basic groups, permanently mounted vs. temporary or deployable. Deployable shutters are put in place in advance of a storm and each piece requires storage when not in use. In contrast, permanently mounted hurricane shutters are affixed to the structure of your home year-round and there's no storage involved. Of all the permanent hurricane protection products on the market, Bahama Hurricane Shutters are among the most popular in Florida.  Consumers prefer this style of permanent shutter for its strength, convenience and durability.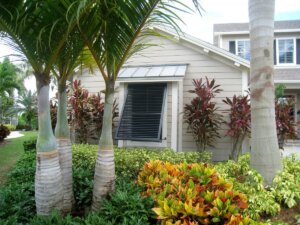 These hurricane shutters get their name from the Caribbean where they originated. Among the chief characteristics of the Bahama style are the hinges located at the top, as they open and close vertically, and each shutter is a single large piece made to fit over a window. It makes the Bahama style easy to close at a moment's notice. Modern technology has made significant improvements in the strength and beauty of these hurricane shutters, but the functionality is still the same after hundreds of years – strong protection and quick to use.
Are Bahama Style Shutters Approved for Hurricane Protection Or Are They Just Decorative?   
If you're wondering whether all Bahama style shutters you see on homes and businesses are for hurricane protection, the answer is no. First, many varieties of Bahama style shutters are meant for decorative use only. These come in many colors and are made of different materials that require little to no maintenance. Some experts estimate that more than half of the Bahama style of shutters you see in parts of Florida are for decorative use only. Why use them at all? Decorative Bahama shutters help conserve energy, provide added privacy to homeowners, and complement the architectural style of a building. So, if hurricane protection is what you desire, be sure to seek Bahama shutters that are rated as Florida Building Code approved or tested for use as hurricane protection.
Will My Old Shutters Still Count As Hurricane Protection?
Here's a question we don't get asked as often but it's important to cover. If you're in a home with existing Bahama shutters, check to make sure they were hurricane rated and installed after 1992. Older models do not meet current standards of hurricane protection.  After it made landfall in August 1992, Hurricane Andrew prompted a transformation in Florida's building codes. The Category 5 Hurricane destroyed more than 25,000 homes in South Florida and caused more than $25 billion in damages. In the aftermath of Hurricane Andrew, grand jury investigations revealed major vulnerabilities in the design, construction and inspection of buildings. The result was a major overhaul of Florida's building regulations and building codes, including the dramatic changes made to wind resistance requirements of hurricane protection products.
Why are these hurricane shutters among the most popular types? Think of protection, durability and beauty. These hurricane shutters complement the style of your home, come in a full palette of colors and, once properly installed, take less than five minutes to secure over your windows.  In advance of a storm, setting them in place is as simple as lowering them completely over the window and attaching the brackets or storm bars provided at installation.
What Are Bahama Hurricane Shutters Made Of?
Bahama Hurricane Shutters are made from durable aluminum, which makes them resistant to chipping, fading, and scratching. In addition to aluminum, they can also be made from a composite material that's also resistant to rust and mildew. They provide hurricane grade protection that's 99% maintenance-free. Unlike plywood panels that some people use for hurricane protection, Bahama hurricane shutters will require professional installation.
How Much Do These Hurricane Shutters Cost?
These hurricane shutters are made to fit the size of the window being covered. That window size and what material your shutters are made of help to determine your cost. The first step to finding out is asking for a quote from a professional. The accurate measurement of your windows is critically important and should be done by a professional Specialty Structure Contractor. The professional will start by inspecting your home to determine if the window openings are suitable for Bahama Hurricane Shutters. Your home's window trim or any obstructions around the opening may hinder installation of the Bahama style of shutters and require another option.  Once that is determined, shutters are generally based on a cost per square inch. Your home's construction and the sizes of the openings to be protected will dictate which types of hurricane protection products can be utilized and cost.
Besides Hurricane Protection, Are Bahama Shutters Beneficial When There's No Hurricane Or Storm?
Bahama Hurricane Shutters are hard at work for you year-round. Even outside of the annual hurricane season in Florida, June 1 – November 30, these shutters help conserve energy. Experts say their decorative shade reduces "heat gain" from direct exposure to sunlight. This makes them ideal for large windows, protecting interior furnishings, pictures and art inside the home from the damaging effects of sustained, direct exposure to sunlight. Experts say that up to 90% of the sun's harmful ultraviolet (UV) rays can be blocked out by Bahama Hurricane Shutters.  Another year-round benefit of having Bahama Hurricane Shutters is the added privacy. From inside of your home, you have maximum visibility, but the blades on the shutters make the view limited from the outside looking in.  Remember, energy conservation and added privacy have made the decorative version of these shutters so popular with consumers, but your Bahama hurricane-grade shutters give you the most important benefit of all – hurricane protection.
For more information on these hurricane shutters Contact us. Hurricane season is a fact of life in Florida every year June 1 – November 30. Now is the time to make your hurricane preparedness plan and protect your home or business. One last thing, don't be confused if you see Bahama Hurricane Shutters you want but the vendor calls them "Bermuda shutters" or "Caribbean Shutters." They're essentially the same thing. The most important thing to focus on is whether they are hurricane-rated.