Hurricane preparedness is a part of life for Floridians. Every year, June 1 – November 30, residents are on alert during the Atlantic Hurricane Season. Consumers have plenty of options, including hurricane shutters that are made of fabric. "Do fabric hurricane shutters really work?" is a question we often hear. In this article, we explain how they work, and look at cost, durability and installation.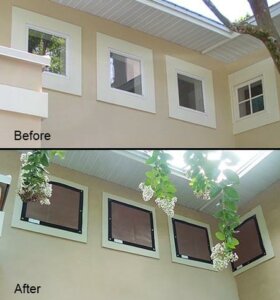 Do Fabric Hurricane Shutters Really Work?
Do fabric hurricane screens or fabric hurricane shutters really work? It's a question that more consumers are asking as more of these fabric products are coming into the market. These specialized fabric blends are the latest in hurricane protection, which now includes everything from clear panels to rolling see-through screens.
Fabric hurricane panels are not made of your typical cloth. Instead, they're reinforced hybrid materials that undergo the rigorous tests required of hurricane protection products. That includes resistance to wind, rain and storm-driven projectiles.
Popular with consumers, fabric hurricane shutters offer an economical alternative to permanent hurricane protection products like hurricane-rated Bahama Shutters and rolling metal shutters. They are easy to use and easy to store, and those are just a couple of the advantages of investing in fabric hurricane shutters.
What are the advantages of using fabric hurricane screens?
Consumers like the fact that these high quality, fabric screens or panels are easy to install in advance of a storm. For starters, they're lightweight, three to eight times lighter than most metal hurricane panels. The installation takes only a fraction of the time it would take for the average homeowner to install a metal or polycarbonate storm panel. There's no heavy equipment necessary for the installation and for most consumers it's a one-person job.
Fabric hurricane screens are easy to maintain and store when not in use.
Fabric hurricane sceens are easy to maintain and store when not in use. Products like Fabric Shield Hurricane Panels come in a compact, hard-cardboard cylinder that can easily be stored in the garage, hall closet, or even under a bed.
How much do fabric hurricane shutters or fabric hurricane screens cost?
Fabric hurricane panels are economical and cost a fraction of aluminum shutters. The price depends on the size of the window or door being covered, the types of anchors selected and installation requirements. Your property insurance company may offer discounts for hurricane protection, so it's worth researching which product lines meet your needs and your budget.
With the threat of hurricane season in Florida spanning six months every year, experts advise to start small, if necessary. Begin by protecting the most vulnerable openings in your home. Those are the largest windows and doors in your home, especially bay windows, sliding glass doors and French doors. These are most susceptible to the devastating effects of storm debris.
Fabric panels are priced considerably lower than permanent shutters like hurricane-rated Bahama Shutters, and aluminum roll-down shutters. A professional will need to measure the square footage of the window and door openings to be covered, before providing you with an estimate or project quote.
How strong and durable can fabric hurricane shutters really be?
The durability of fabric storm panels depends on the type of material used. As we wrote earlier, this is not your typical fabric or material. Modern technology in storm protection provides a variety of choices. The reinforced, woven mix may be coated with a synthetic PVC material, or vinyl, to provide protection despite being porous. Some screens even include threads of aramid which is the same material used in bullet-proof vests. Polypropylene fabric is another option and is 95% solid and 5% porous.  It's a combination that effectively keeps high winds and driving rain out, but allows natural light in.
EZ Max Hurricane Screens, for example, are constructed of thick polypropylene material that also blocks the sun's damaging UV rays. The built-in UV inhibitor keeps the hurricane screen from fading and requires very little maintenance.
Another factor contributing to the strength and durability of fabric hurricane panels is the anchoring system. That's what attaches the product to the building. EZ Max screens have a special two-inch border that is thermally welded on both sides of the fabric. The wall anchors, brackets and buckles attach to the welded edging, keeping the storm panel securely in place.
The fabric's unique "bounce" or flexibility is another reason why it's so durable. It can absorb the impact of storm debris without tearing.  Preventing penetration into the structure is the key to protecting your home in a hurricane. Sudden changes of air pressure inside your home, caused by a break in a window or door, can jeopardize the integrity of your roof and walls.
How are fabric hurricane screens more convenient than permanent storm shutters?
Fabric hurricane screens are not permanently installed on your home.  Unlike permanent hurricane shutters, like accordion style metal shutters or Colonial Shutters, fabric hurricane shutters or screens don't alter the look of your home. There are no rails or shutters permanently attached to the wall.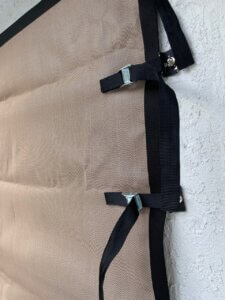 The woven material also allows for natural light to get in, which is incredibly convenient during power outages caused by storms. Once the danger has passed and it's time to store this hurricane protection product, minimal storage space is required. For consumers with limited storage space, that makes fabric hurricane shutters a desirable option.
How easy are fabric hurricane screens to install?
When you purchase fabric storm panels, the brackets, buckles and bolts you will need are provided, as well. Each fabric panel for every opening of your home is clearly labeled to match up with the corresponding window or door. And as noted, these fabric hurricane panels are lightweight and can be installed by one-person.
Once the storm has passed, the panels can be removed by reversing the same easy steps and returned to the compact storage containers they came in. There's no mess and they're easily stored out of sight.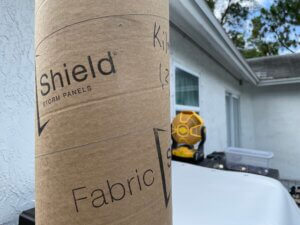 If you need more information on fabric hurricane shutters or other storm protection products, reach out to a locally owned and operated storm protection business in your area. Modern technology makes it possible for consumers to select from a variety of hurricane protection products to fit any budget. Whichever fabric hurricane shutter or hurricane protection product you select, make sure it's Florida Building Code approved.
If you're considering fabric hurricane shutters for your home, read this first to understand the advantages and disadvantages of this type of product. In this article, we'll look at cost, durability, and installation. Read on to learn more about these shutters. You'll be glad you did! Listed below are some of the pros and cons of fabric hurricane shutters. Let's take a look at both!
A good temporary solution
Fabric hurricane shutters are the most economical hurricane protection option, but they have a few disadvantages. For starters, they require more set-up time in advance of a storm, which means you or someone you trust must be on-site to access and deploy your fabric hurricane screens on all of your openings. While fabric is a good temporary option for protecting windows from hurricanes, it's not as time-saving as permanent hurricane protection options. Incompatibility with the home's construction and low visibility are other disadvantages that some consumers have identified.
However, the benefits of fabric hurricane shutters far outweigh these drawbacks. Here are five of the biggest advantages of the hurricane grade fabric screens.
Multiple pros of fabric hurricane shutters
A high-quality fabric screen or panel is lightweight, easy to maintain, and can withstand impact. Also commonly referred to as "fabric hurricane shutters," they are easier to handle and store than steel panels. Rolling shutters are louvered panels that are stored permanently over the span of the window and are manually deployed and stored. On the other hand, accordion shutters are hinged and louvered panels permanently mounted beside the opening. This feature helps make them more convenient to install and maintain, and it can also be operated remotely.
Cost
How much do fabric hurricane shutters cost? The cost of fabric hurricane shutters depends on several factors. Below, we outline the main factors that affect the price of this type of shutter. You can also get an estimate yourself by contacting two or three contractors in your area. To get an accurate price estimate, you can compare the prices of different companies. Once you've established the amount that you can afford to spend on hurricane shutters, you can make an informed decision about the best solution for your home.
There are two main types of hurricane screens: storm panels and clamshell shutters. Storm panels are more affordable, but they need to be manually installed. Clamshell shutters, which are made from impact-resistant metal awnings, are easy to use and install. They're commonly found in South Florida and are very durable. In addition to providing excellent hurricane protection, clamshell shutters can help keep your home safe from looters.
Durability
The durability of fabric hurricane shutters depends on the type of material used. The panels in panel-style shutters must be manually hung in advance of a hurricane, while roll-down shutters have motor-powered controls. These shutters require more maintenance because of their electrical components. Fabric hurricane shutters are more affordable than other hurricane shutter types. Fabric shutters may be a more expensive option, but they do offer superior protection and are very easy to install.
AstroGuard Hurricane Fabric, a type of storm fabric, is tested and proven to protect homes from Category 5 Hurricanes. It blocks 100% of the wind and rain. Its Patented Clip System enables it to be opened for replacement screen versus other fabric hurricane shutters, which require the entire installation. Unlike solid hurricane shutters, fabric shutters require minimal storage space. This option is ideal for homes with limited space.
Installation
If you're unsure about whether or not you need to hire a professional to install your fabric hurricane shutters, here are a few things to keep in mind. First of all, consider the type of shutter you need. While panel-style shutters must be manually hung before a storm, roll-down shutters are motorized. The latter require more maintenance since they have more moving parts. Regardless of whether you choose roller shutters or fabric hurricane shutters, you'll want to know how to install them before a storm hits.
Hurricane Fabric is a unique type of hurricane fabric that exceeds the capabilities of its competitors in the market. This unique material outperforms polypropylene and other traditional shutters by a long shot. Its revolutionary anchoring system, which features military-grade flex anchors, ensures material integrity at the anchoring points and allows for a dynamic approach to debris absorption. Fabric hurricane shutters are available in several colors and are easy to install.